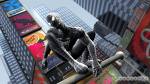 Spider-Man
Edit
(see Spider-Man Film Series)
Spider-Man:The Movie
Edit
Spider-Man 2
Edit
(see Spider-Man Film Series)
Spider-Man 2 Game
Edit
Spider-Man 3
Edit
(see Spider-Man Film Series)
Spider-Man 3 Game
Edit
If Spider-Man 4 (film) wasn't canceled,Spider-Man would have had a baby.
Spider-Man would go back to high school.
Game Exclusive
Edit
Spider-Man takes on a Symbiote Invasion with the help of friends and Enemies in Spider-Man:Friend or Foe.Spider-Man makes his first oout of universe appearance in a deleted scene of X2:Wolverine's Revenge.It seems he knows Wolverine from a certain time in their past.Spider-Man offers to help defeat Magneto but Logan tells him to wait for the Police.
Birthname:Peter Benjamin Parker
Aliases:Spidey,Spider,Tiger,Wall Crawler,Web Head,Web Slinger
Weapons:None
Powers:Webbing,Super Human Strenght,Enhanced Agility,Wall Clinginess
Teams:Daily Bugle
Vechicles:Peter's Scooter,Webbing
Status:Good
Lairs/Homes:Peter's Apartment
Relationships
Edit
New Goblin-Friend
Mary Jane Watson-Lover
Black Cat-Associate
Nick Fury-Associate
Prowler-Associate
Silver Sable-Associate
Iron Fist-Associate
Blade-Associate
Lizard-Friend
Scorpion-Associate
Jean DeWolfe-Associate
Green Goblin-Enemy
Doctor Octopus-Enemy
Venom-Enemy
Sandman-Enemy
Wolverine-Associate
Kraven-Enemy
Shocker-Enemy
Vulture-Enemy
Rhino-Enemy
Puma-Enemy
Mysterio-Enemy
Morbius-Enemy,Asociate
Shriek-Enemy
Kingpin-Enemy
Mad Bomber-Enemy
Electro-Enemy
Carnage-Enemy
Calypso-Enemy